The Foot And Ankle
---
More than 14.2 million visits were made to physicians' offices in 2001 because of foot, toe and ankle problems, including 2.3 million visits for ankle sprains and 1.2 million visits for ankle fractures. Consider this:
Walking puts up to 1.5 times your bodyweight on your foot.
Your feet log approx. 1,000 miles per year.
As shock absorbers, feet cushion up to one million pounds of pressure during one hour of strenuous exercise.
How do the foot and ankle work?
Here are some facts from the American Academy of Orthopaedic Surgeons: Each foot has 26 bones. The ankle bone (talus) and the ends of the two lower leg bones (tibia and fibula) form the ankle joint, which is stabilized and supported by three groups of ligaments. Muscles and tendons move the foot and ankle.
Lateral View of the Right Foot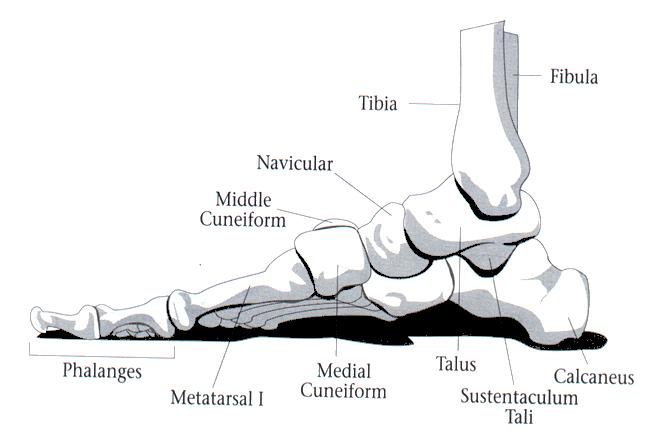 Medial View of the Right Foot
What are the most prevalent foot and ankle injuries?
Ankle sprains. Sprained ankles are one of the most common injuries in sports. Because the inner ankle is more stable than the outer ankle, the foot is likely to turn inward (ankle inversion) from a fall, tackle, or jump. This stretches or tears ligaments; the result is an ankle sprain. The lateral ligament on the outer ankle is most prone to injury.

Achilles tendon injury. The strongest and largest tendon, the Achilles tendon connects muscles in the lower leg with the heel bone. Sports that tighten the calf muscles, such as basketball, running and high-jumping can overstress this tendon and cause a strain (Achilles tendinitis) or a rupture. A direct blow to the foot, ankle, or calf can also cause it.

Overuse injuries. Excessive training, such as running long distances without rest, places repeated stress on the foot and ankle. The result can be stress fractures and muscle/tendon strains.

Shin splints. Pain in front of the shin bone (tibia) usually is caused by a stress fracture, called shin splints. Overtraining, poorly fitting athletic shoes, and a change in running surface from soft to hard puts athletes at risk for this injury.
What activities make people most susceptible to foot and ankle injuries?
Athletes who jump risk ankle sprains because they can accidentally land on the side of their foot. Extensive running, exercise, or training also can overstress the ligaments, leading to injury. Contact and kicking sports expose the foot and ankle to potential trauma—direct blows, crushing, displacement, etc. Especially prevalent in football, hockey, and soccer—trauma can dislocate a joint, fracture a bone, stretch or tear ligaments, or strain muscles and tendons.
What other factors make people susceptible to foot and ankle injuries?
Improperly fitting shoes or improper footwear for a particular sport can damage your feet. Training errors, i.e., running up hills, or running on bumpy roads, predispose you to serious sprains and strains. If you start a new sport without proper conditioning, you are at risk.
How are foot and ankle injuries treated?
Most sprains and strains are initially treated with rest, ice, compression, and elevation. Moderate and severe sprains and strains are often immobilized with a cast or splint. Severe fractures often require surgical repair.
No one is immune from these injuries, but the American Academy of Orthopaedic Surgeons developed these tips to help reduce your injury risk:
Warm up before any sports activity, including practice

Participate in a conditioning program to build muscle strength

Do stretching exercises daily

Listen to your body: never run if you experience pain in the foot or ankle.

Wear protective equipment appropriate for that sport

Replace athletic shoes as soon as the tread or heel wears out

Wear properly fitting athletic, dress, and casual shoes